US Drywall Concepts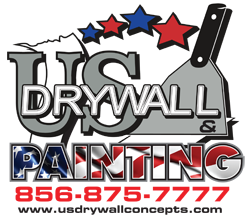 US Drywall and Painting
John J. Hackett, owner of US Drywall and Painting has earned an impeccable reputation for honesty, integrity, and superior workmanship in the South Jersey construction industry since 1986.
Meeting and exceeding the most rigorous demands of project managers has resulted in a thorough understanding of quality, value, and dependable service.
Now, those same values are the first of MANY reasons why you should choose US Drywall and Painting.
We have built our reputation on total customer satisfaction and work hard to maintain that high level of standards throughout the years.
With professional staff on call, on time installation, top of the line tools and equipment, experienced technicians, and a powerhouse of production capability, let US Drywall and Painting handle all your drywall needs.